In Schoox, members' skills can be determined either by their progress in their training or by the assessments that their managers made for them. You, as an Admin, are able to weigh their importance on the members' final rating. To do so, go to the Skills Management section and click Performance Settings.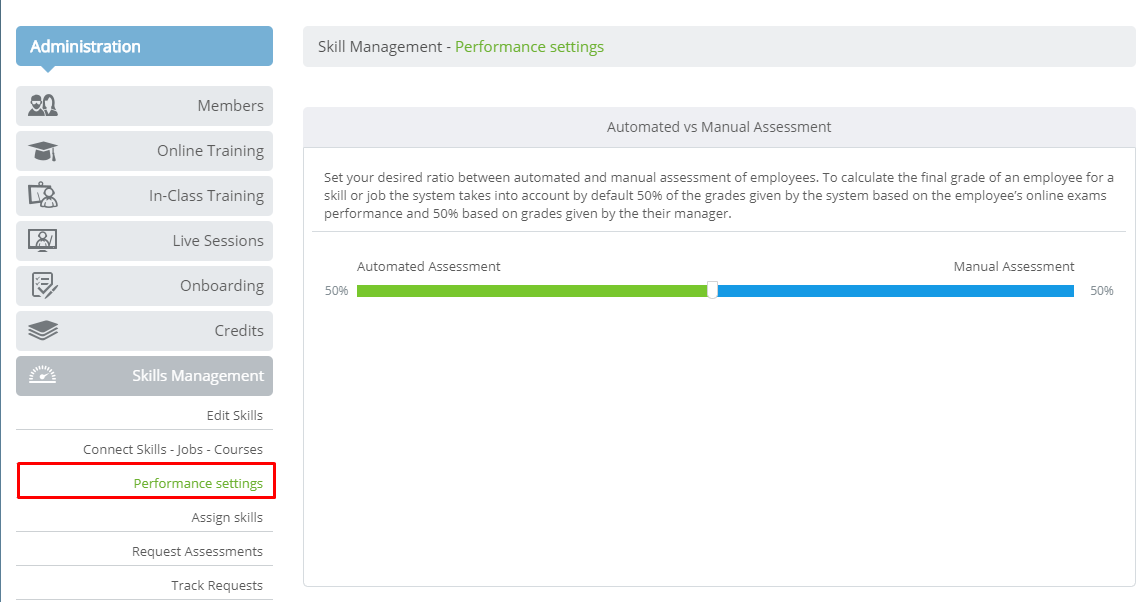 Adjust the bar to achieve the desired ratio. As an example, you can choose that for a user's final rating we should take into account 30% of their automated assessment's rating and 70% of the rating they were given by their manager.

>Automated Assessment

The automated assessment's rating corresponds to the connected course's exam score. The automated rating for a skill connected to a course is updated according to the user's score on the course exam.

Please note that a skill-connected course should always include an exam. Otherwise, the automated assessment will be incorrect.

>Manual Assessment

The manual assessment rating of a skill is a result of all the assessments the managers and admins have completed for a user, for this specific skill. An Admin can assess all Academy members by using the Manual Assessment page. In the same way, managers can use the Manual Assessment page to assess the members under their organizational structure whenever they want to. Additionally, Admins can request from their managers to assess the users under their org structure, and this assessment also counts for the members' manual assessment rating.

Read more about Manual Assessments: How To Complete An Assessment As A Manager?

>Self Assessment

Regular users may have the ability to assess themselves, if their Academy Admin has given this option through the Advanced Academy Settings. However, these assessments do not count in the users' overall manual ratings. The self-assessment rating only works to help the Admins have a better understanding of the perception gap between how members and managers assess the members' skills and abilities.

Read more about Self Assessments: Self-Assessments And Perception Gap