To set up your company's Above Units, click Admin. On the left, under Members, select Set up Organization. Select the Above Units tab.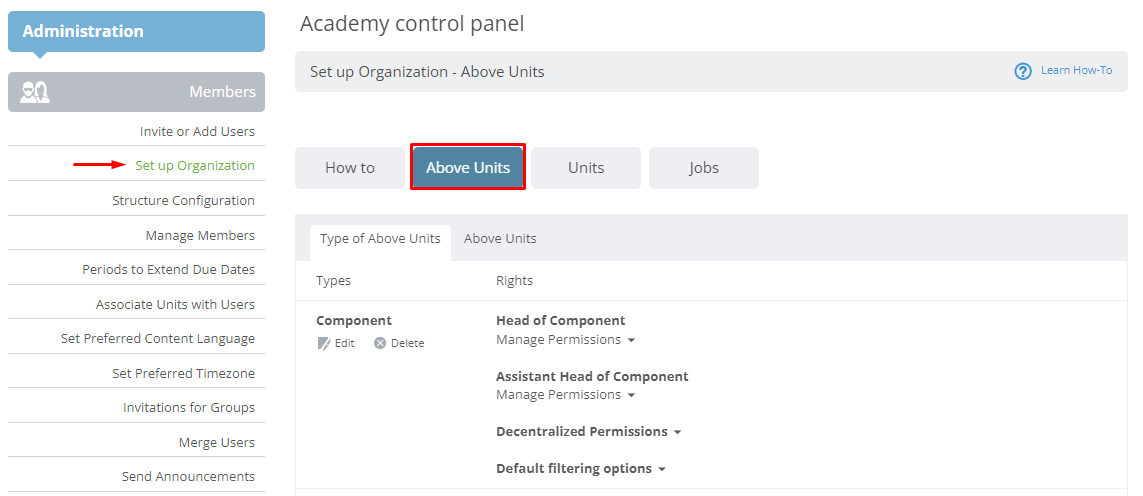 You will notice that there are two sub-tabs:
Type of Above Units
Before adding any actual Above Units, you must first define the type of Above Units there are in your company. An example of a Type could be a State or a Country. After a Type has been defined, you can start adding Above Units that fall under these Types, such as California for State, or Canada for Country.
Note: Once an Above Unit Type has been created, two jobs will automatically be connected, a Head of and Assistant Head of (In our example, Head of State or Assistant Head of State). These jobs are being created automatically, you cannot delete them but you can define the permissions that they can have. For more information on how to define the permissions per job please read also: Defining Permissions per Job
For each Above Unit Type, you have the option to define any Decentralized permissions you want to give. Learn more on decentralized permissions here: Giving Decentralized Category Permissions
For each Above Unit Type, you also have the option to define the default view of the "Choose Unit" filter dropdown on all pages with employees' listings, to make it easier and faster for your managers to see relevant results. The available options are:
Choose Unit
Only staff at above unit
Only staff at units

Please note: If you choose "Only staff at above unit", you are telling the system that (Assistant) Heads of should view users directly connected with that Above Unit first, or in our example above, a Head of State would only see people directly connected with California directly.
Similarly, if you select "Only staff at units", this will show users that are indirectly connected to that Above Unit. An example might be, that a Head of State for California would see Units, such as offices in cities, so they may see the users that work in Los Angeles, San Diego, and San Francisco Units.
Above Units
Under this tab, you can add new Above Units for your Academy and relate any Above Units with parent organizational relationships.
To add a new Above Unit, select the desired Above Unit Type, add the Above Unit name into the space provided, and click Add. Your Above Unit will be immediately added!

After you have created your Above Units you can set up parent relationships between them. To do so, open the drop-down next to an Above Unit and select which Above Unit you want to set as Parent for it.

When an Above Unit is set as a parent to another Above Unit, it means that its Head Of's permissions will cascade to the Above Unit below. So if Above Unit A is a parent to Above Unit B, then the Head of Above Unit A will have permissions on both Above Units.
Related articles: Labeling an Above Unit as a Brand