Your Profile is a place where you can find a lot of details about your account. You can edit your personal information, view your certificates, track your Accomplishments, and many more. Let's check how in more detail!
Personal Information
On the top of your profile page, you will find a section that includes all your personal information that your Admin has made available. You may also be able to add a personal photo or edit some of this information if your Admin is allowing you to. You can read more on how to edit your profile information here: Which information can I edit on My Profile?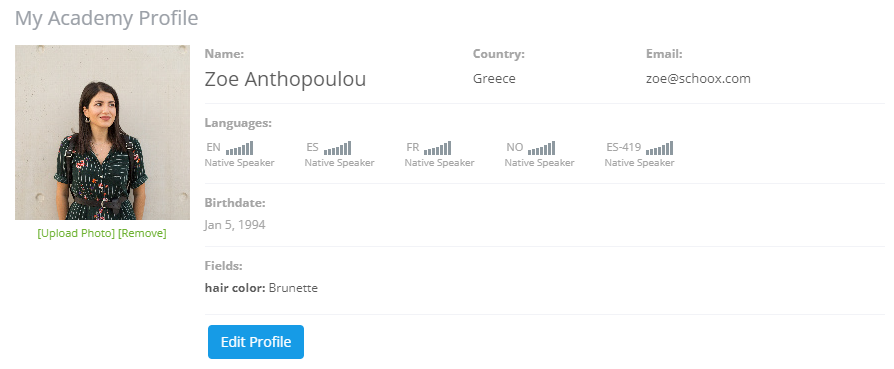 Profile Menu
Here you will find more information about your account such as your Accomplishments, Certificates, and Organizational Structure. Let's check every tab in more detail!

Feeds: This is your personal wall! It is a place where other people can add their own posts for you. Here you will also find all posts you have made on the Academy or Group Walls.
About me: Here you can add a small Bio, and information about your Education and Experience. You can edit this by editing your profile: Which information can I edit on My Profile?

Accomplishments: Here you will find a collection of all of your accomplishments in Schoox such as your Badges and Games, your Knowledge Profile, and your Leaderboard Rankings. You can learn more here: What is my ePortfolio?

Certificates: Here you can find all the certificates you have acquired and the ones you have uploaded to this Academy. You can learn more about your certificates here: Where can I find my Certificates?

Units/Jobs: Here you can find the Jobs and Locations that you have been assigned in this Academy.

Credits: On this tab, you can review all the Credits you have acquired on the Current Period or All time. You can also select to add External Credits and upload the External Certificate to justify them. Read more on how to upload your External Certificate here: How can I upload my External Certificate?
Side Bar
Based on what your Academy Admin has enabled for you, there may be four overview widgets available.
Academy Score: This is your overall/total score for this academy. This score reflects the total number of points you have earned for all of the Leaderboards in this Academy.
Badges: This widget displays the latest Badge that you have earned.
Academy Friends: This widget displays your Friends in this Academy if any.
Academy Members: This widget displays all the Members in this Academy.