Groups are a very powerful feature for content and knowledge sharing and collaboration. They have several functions available that will allow group members to collaborate and interact with each other. Each group may have its own visibility and access rules. On this page, you are able to search through all Groups that are available to you!
Which Groups can I see?
In general, the set of Groups that is available for you on this page is primarily defined by the Categories that you have access to. You can see these categories on the right side of your screen.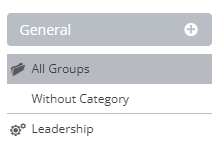 Subsequently, the set of Groups you will be able to see depends on the visibility of each Group. Public Groups can be seen by all users, while Private Groups can only be seen and joined by users who have an invitation by the Admin.
Please note that the Group categories can only be defined by an Admin. Read more: How Can I Manage My Group Categories?
How can I find the Group I want?
To find the groups you want you can use the filters and search bar. Moreover, on the right side of the screen, you have the option to filter the Groups by Category.

Once you find a Public Group you can select to join it very easily. You can read the process here: How can I join a Group?
Please note that the categories available to you will only be the ones you have permission to access.
Create a Group
If you are an Admin or a user with the relevant permission, you will also be able to see the Create On the Job Training button on this page.

Read more on how to create a Group: How to create a group?