Microsoft Teams for Business accounts can be connected with personal Schoox profiles. Thus, managers can use their own personal Zoom accounts to create and initiate Live Sessions in the Academy.
But before going to the Schoox platform, make sure you have completed the relevant setup in your Microsoft Azure account! There are 6 steps you will need to follow for this setup!
Step #1: The IT department of your company will need to set up a Microsoft Azure account for your Organization. If you don't have one yet, you can create one here: https://azure.microsoft.com/
Step #2: In your Azure portal, it is recommended that your domain has been verified, in order for your user accounts to be considered as Microsoft Work Accounts. You can also find here some more information on this! Please note that Microsoft Work Accounts are required, in order to be able to initiate Teams Online Meetings via Schoox. Users that won't have a Work Account may still be able to connect their Teams account with Schoox, however, they will face an issue when trying to initiate events in Schoox.

Step #3: Make sure that all of the Users in your Schoox Academy are also Users of your Azure Organization. If they are not, they will join the session as guests and their attendance won't be tracked.
The users may be added to your Azure Organization as:
a) Organization Users: An Organization User is a user whose email in Schoox belongs to the same domain as your Azure Organization. These users will need to be allocated a Teams User Licence.
b) External users. An External User is a User whose email in Schoox does not belong to the same domain as your Azure Organization. These users do not need a Teams User Licence.
Step #4: In your Azure Portal and under Azure Active Directory >Enterprise applications >
Consent and permissions > User consent settings, make sure to have the following option selected:
You can also find here some more information on this!
Step #5: In your Microsoft Team Admin Center, under Users>External Access please make sure that you have selected the following:
- "Teams and Skype for Business users in external organizations": Allow all external domains
- "Teams accounts not managed by any organization": Enabled
Step #6: A Global administrator of the Azure portal of your Organization should subscribe all users to one of the available options for "Microsoft Teams for Business", on top of Microsoft 365 services. Click here for more details on this!
And now that the Microsoft Azure setup has been completed, you are ready to go back to Schoox and complete the Schoox - Teams connection!
! Important Note: The steps below should be followed by the Admin of the Microsoft Azure account first. If these steps have been completed by the Admin of the Microsoft Azure account for one time, he/she can disconnect his/her account and from then on, all of the Schoox users who have an account in the Azure Organization will be able to follow the same process and connect their Teams account with their Personal Profile.
To do so, select Me and then My Settings from the upper navigation menu. From the left side menu under Integrations, select Microsoft Teams for Business, click on Connect, and complete the setup!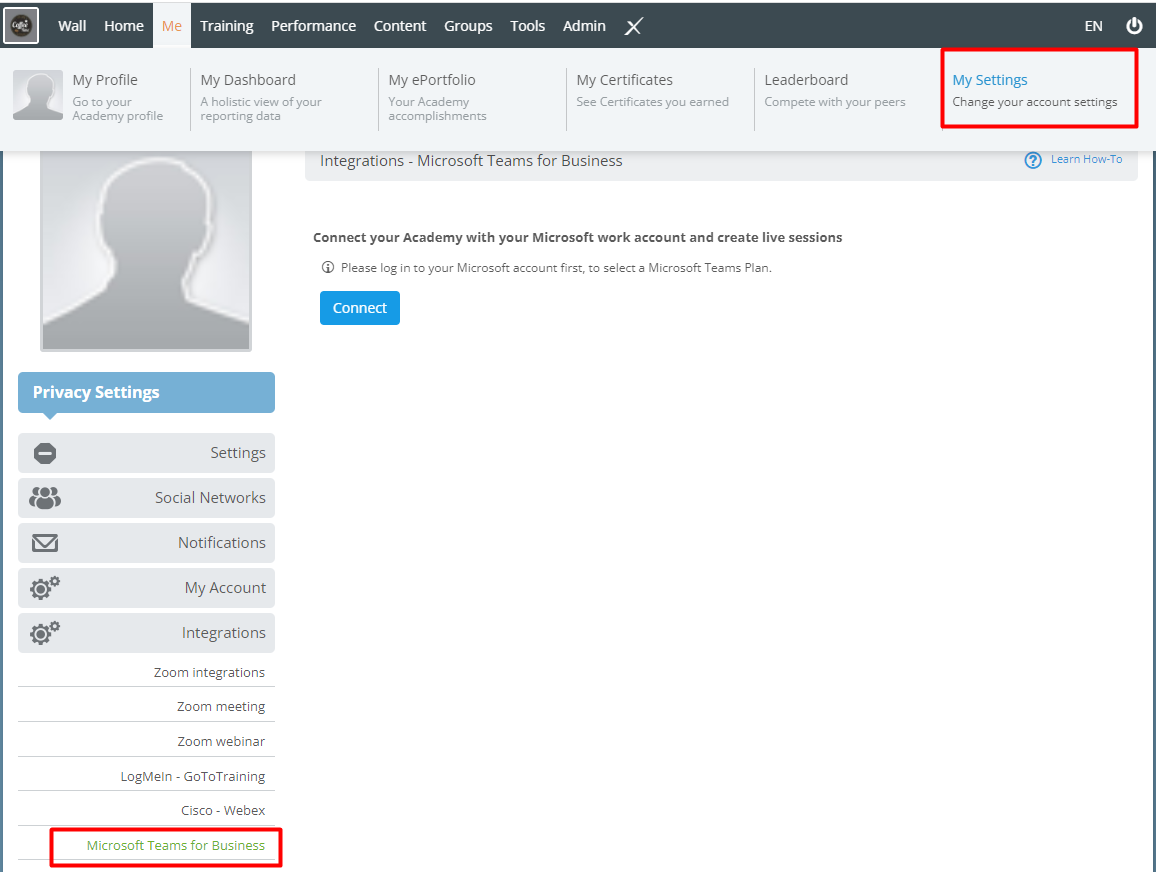 Once the Microsoft Teams account is connected to your Personal profile, you'll be able to see a revelant "Connected" indication in Schoox. It's time to select your account's tier! If you have an up to 100 users Microsoft Teams for Business account, for example, you won't be able to invite more than 100 users to your event.
Important Note:
Microsoft provides the following options of subscriptions:
Free Plan (up to 100 users)
Essentials Plan (up to 300 users)
Basic Plan (up to 300 users)
Standard Plan (up to 300 users)
Premium Plan (up to 300 users)
Enterprise Plan (unlimited # of users)
Mixed Plans (allows you to define the # of users)
Schoox currently allows a maximum of 500 users to participate in a Live session initiated with Microsoft Teams. This is a limit imposed by Microsoft, and cannot be changed for the time being.
Last but not least, you can enable/disable the "Allow users outside of your Microsoft Azure Organization to connect to Teams Meetings" setting. This setting allows you to restrict the Teams Meetings Participation only to your Organization Users. This way you can exclude External Users from your online meetings. Please note, however, that this setting should be defined before initiating your event, as it does not work retroactively.


Your Microsoft Teams account is now successfully connected with your Academy! The last step you have to follow is to access again your Azure portal and go to Dashboard/ Home > Enterprise applications > Schoox and make sure that:
the Assignment required toggle is turned to No
the Visible to users toggle is turned to Yes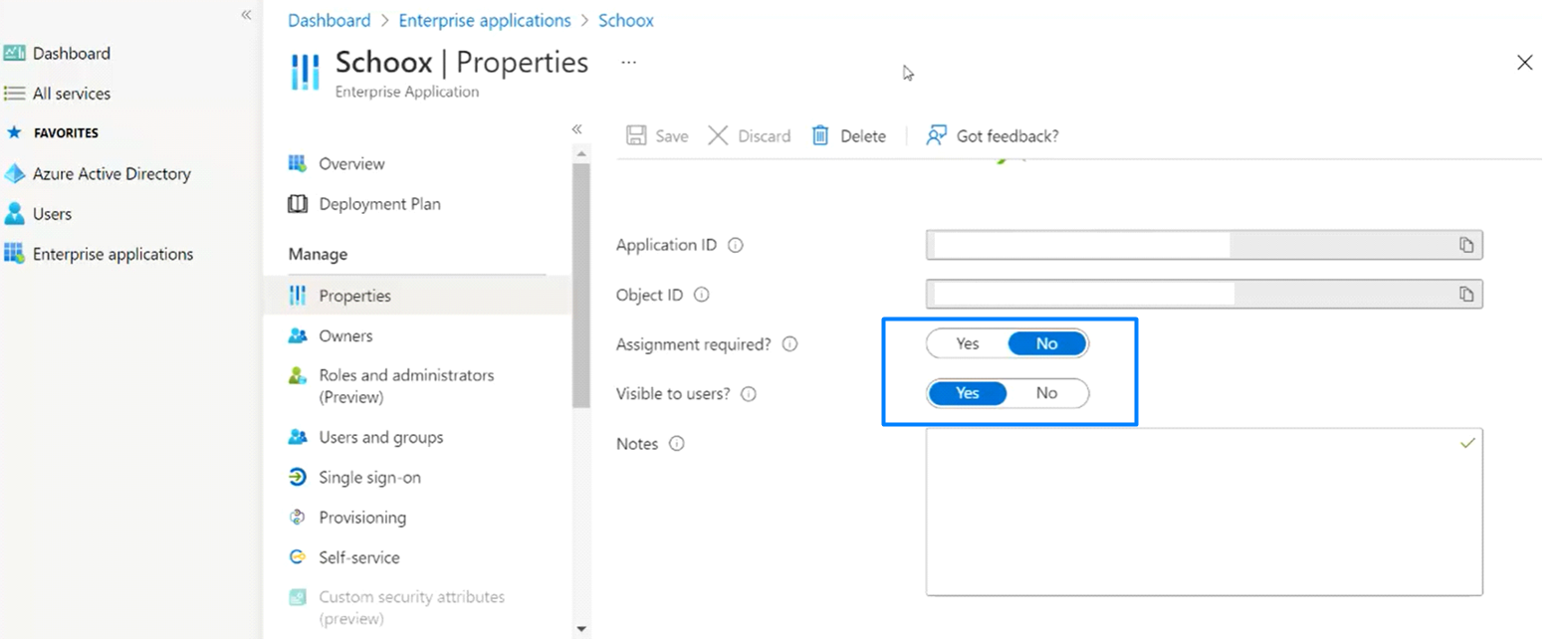 You are now ready to start creating your events! Once you are ready, initiate them using the connected Microsoft Teams account!
Read also: