You can assign a curriculum to employees by clicking on Assign in the Curriculum Card.

Only Admins and Training Managers can assign a Curriculum. 
Alternatively, you can assign a curriculum by clicking Assign Curriculum in the Curriculum's Administration Panel.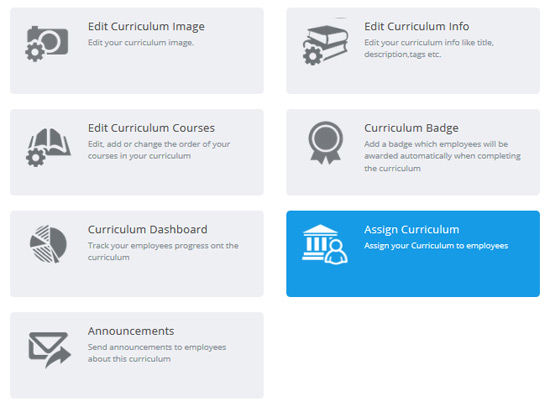 In the window that appears, you will be given the option to assign the curriculum either to specific employees (Individual Assignment), or to a group of employees based on their job and location (Advanced Assignment). 

1. Assign a curriculum directly to employees
You can find individuals easier using the Search field and drop-down filter menus.


To assign an individual to this curriculum, simply click the plus ("+") symbol beside their name in the left-hand column.  Their name will then appear in the right-hand Selected column.
To remove an individual from the list, click the Minus("-") symbol.



After selecting the desired individuals, you can give them a due date by typing in the number of days they have to complete the curriculum in the Due Date field.
Type in a personalized message to them, if you'd like, and click Assign when finished.


Each of these individuals will then receive a notification in Schoox, and an email if they've set up that functionality.


2. Assign a curriculum to a group of people
You can also assign a curriculum to one or more groups of people based on their job and location. Moreover, you can create an assignment rule to assign future hires automatically.
Under Advanced Assignment, select the specific job to which this assignment is associated.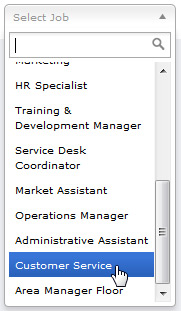 Then, select both the desired Above Units and Units in their respective columns and filter using the drop-down menus, if needed.
The number of individuals affected will appear below.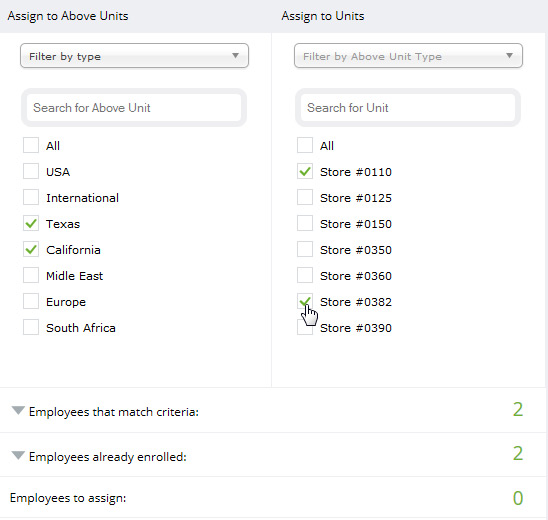 You have the choice to either assign this curriculum to this group this one time, and/or setting up a rule that will automatically assign to individuals within these parameters in the future.
Check Automated Assignment Rule to make this assignment a rule for future hires.  Check Only to new hires if you ONLY want this to pertain to future hires, as opposed to assigning it now.

Add a due date and note as before, and click the blue Assign/Set button when finished.