Schoox provides you with a powerful reporting tool within your academy, giving you the ability to track academy members' progress in a number of ways.
Users with Admin rights or Managers with the Reporting permission enabled are now able to create any report they want to, set specific fields and filters according to their needs and export their customized reports as csv files. Moreover, they can create a reporting template that will be available to anyone who has reporting permissions.
The Report Builder feature provides very detailed data about your members' training performance, based on the specific parameters you set up. You can get to the Report Builder options by navigating to the Admin tab from the upper navigation bar and selecting Reporting. From the left side menu select Report Builder.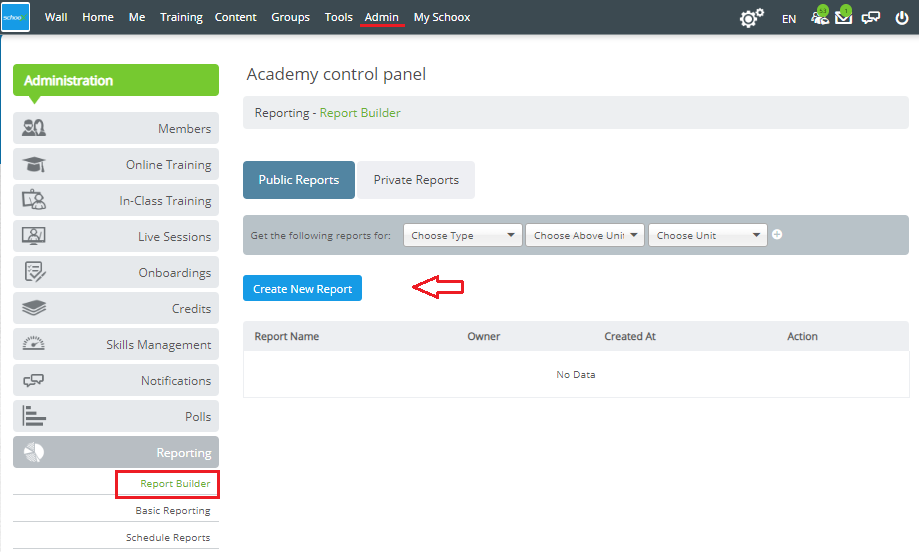 You can create both Public and Private Reports. Every public report that you create will be available to Managers, who have the Reporting permission enabled. Private reports will be available only to you. You can select if your report will be a public or a private one, simply by clicking the relevant tab.

Click on the Create New Report button and choose the type of your report. You are able to export many different types of reports, such as Course Reports, Curricula Reports, Event Reports, Member Reports, etc. Just click on the type of report you want and then hit Continue. You can return to the previous page, if you want to, by clicking the Back to control panel button at the top of the page.

Once you have selected the type of your report, you are ready to set up the Report Options and select the Fields that you want to include.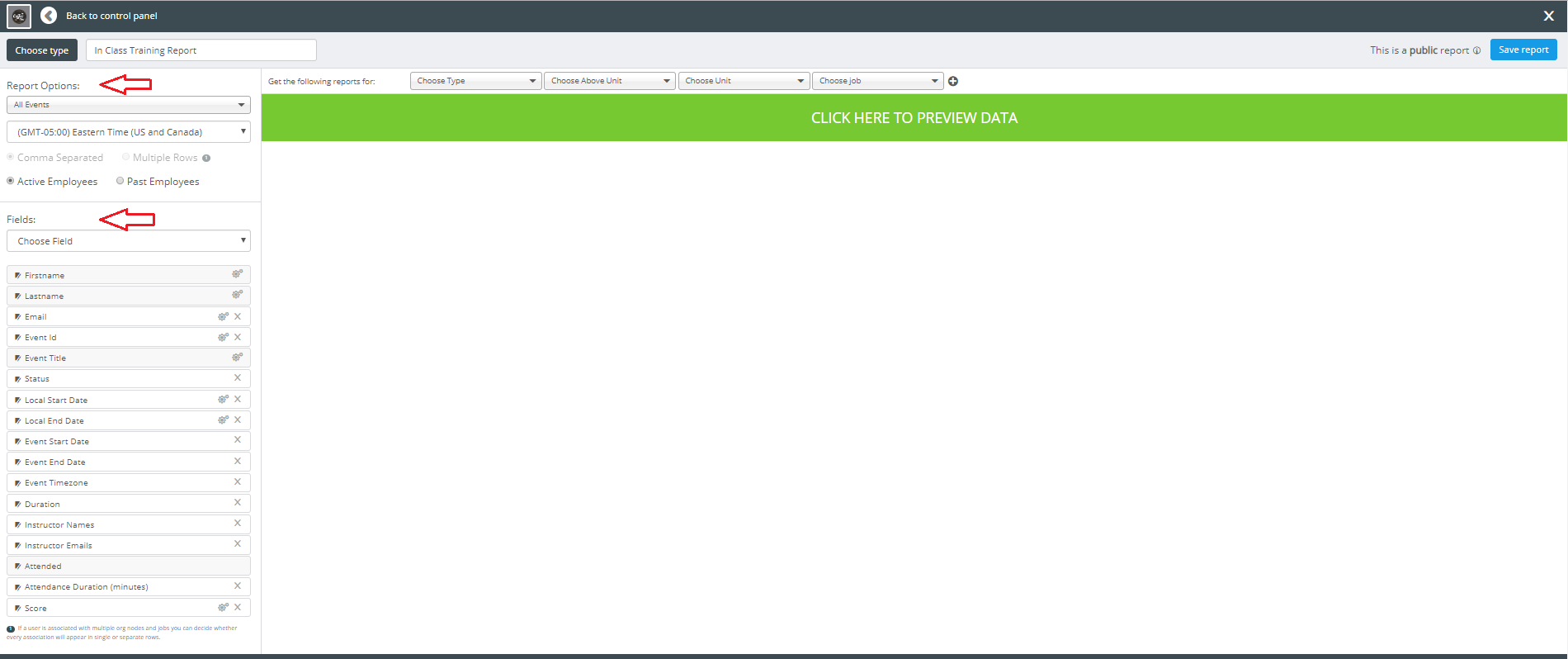 Report Options: You have the option to select if your report will include data from all of the academy's events, courses, curricula, etc, or from a specific one. Moreover, if a user is associated with multiple org nodes and jobs you can decide whether every association will appear in single (Comma Separated option) or separate rows (Multiple Rows option).
Moreover, a dropdown menu with all time zones is available. All date/time fields will be displayed at the selected time zone.
Fields: Every type of report has some predefined fields. You can now edit these fields, add or delete some of them, change their order (with a simple drag & drop), creating the report that perfectly meets your needs. Please note that the order that your field list has also defines the order of the columns in your report.
(For more information about how to edit the fields in your report,
please read also: How to edit the fields in my report?)
You can create reports using multiple filters, e.g., taking into account two types of above units. On the top of the page, select the Above Unit and Unit for which you wish to create a report.

To use multiple filters, select the "+"  icon on the right part of the filters.
Select the extra Above Unit and Unit you wish to take into account for the report.

Select "AND" to include only the users that the selected Above Units (and the connected Units) have in common. 
Select "OR" to get all users who are associated with any of the selected Above Units.
Once you have set up your report, click on the green Click here to preview data area and if you do not want to change anything, save your report by clicking the blue Save Report button, on the top of the page. You can also change the name of your report from the text box next to the Choose type button.

Your report will be saved in the Report Builder tab. If the report is a public one, it will be available also to Managers with the Reporting permission enabled.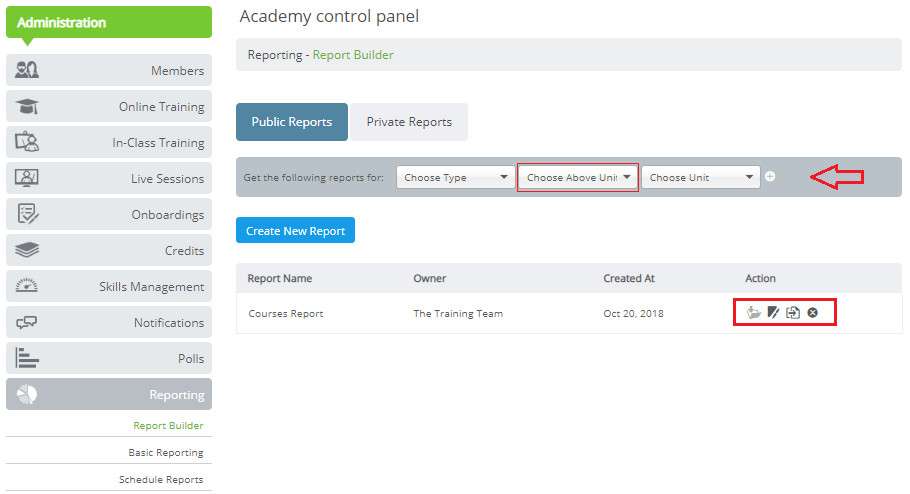 There are several actions available to you regarding the reports you have created:
Download - You have to select at least one Above Unit in order to be able to download any report.
Edit
Copy
Delete
Please also note:
Managers will be able to download every public report, but they will not be able to see the data from other Above Units or Units not connected to their Above Unit.
Heads of Above Units and Unit managers can create only private reports.