Users can set their preferred time zone in order to see all dates/times adjusted to it on dashboards, certificates, and any report. In order to edit the preferred timezone hover over Me and select My Settings.

Under Timezone, you have the option to define your preferred timezone. Just select one from the dropdown and click Save. Please select your time zone based on your location. This setting takes into account all Daylight Saving Time (DST) clock changes.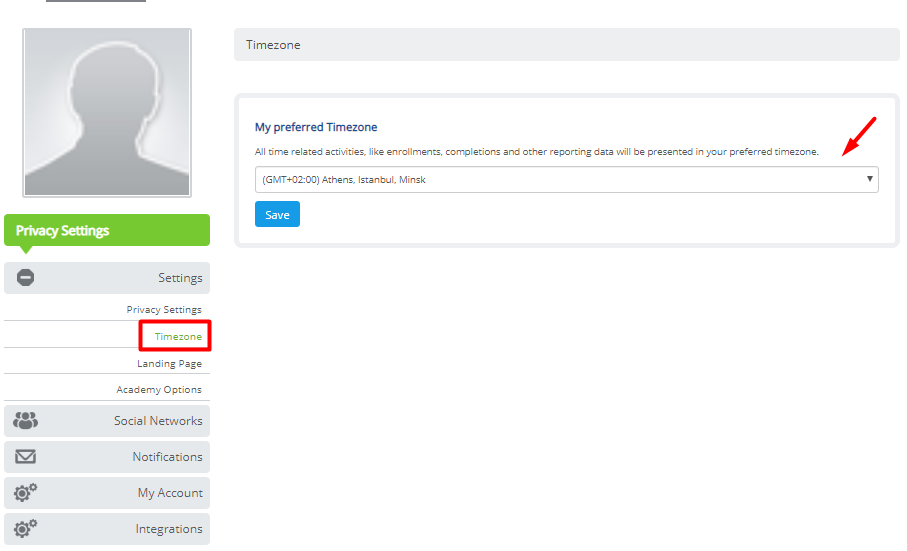 This setting will affect all times/dates shown on reports, certificates, and dashboards.
Moreover, when setting a completion date or a due date on the "Assign Training" pages or Employees' Dashboard, the user's preferred time zone will be taken into account and displayed accordingly.
As an example:
Admin's timezone: EEST (GMT+3)

User's timezone: AKDT (GMT-11)
On 06/15/2020 the Admin of the academy adds a due date of 06/17/2020 for one of the user's courses. This means that the due date that the Admin will be able to see for this user will be 06/17/2020 00:00 EEST. The same due date will be 06/16/2020, 21:00 AKDT for the User. That means that the due date that the user will be able to see under the course card will be 06/16/2020.
Please note:
All users' time zones will default to their internet browser time zone on their first login.
In case the user logs in via SSO and no specific timezone has been defined, all of the dates/times on dashboards/certificates, etc. will not be changed.