Under Notifications from your administration panel you have two different types of notifications:
Academy Notifications
Scheduled Notifications
Let's check the Scheduled Notifications in some more detail!
In this type of notifications, you have the option to add reminders for selected recipients.
Please note that you are able to set different reminders per role. As an example, you may want to notify the Employee about an expiring course certificate 5 days before the expiration and the Course assignor 2 days before.
Moreover, even if the academy admin has enabled a scheduled notification to be sent to all Managers, each one of them will have the option to turn them off on a personal level, by accessing his personal settings (Me> My Settings> Notifications> General Academies):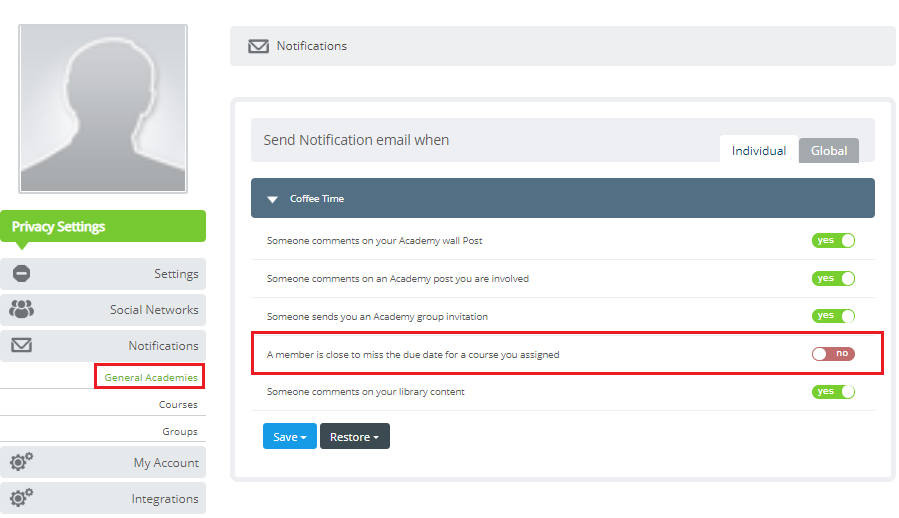 Please find below a list of all of the available scheduled notifications:
Recipient

Purpose

Employee notification about course due date
Employee
To remind the employee about the course due date
Manager notification about employees' course due date
Course Assignor/Unit Manager/Assistant Unit Manager/Direct Head of Above
To inform the manager about the employees who haven't completed a course with a due date
Notification about missed course due date

Employee/Course Assignor/Unit Manager/Assistant Unit Manager/Direct Head of Above

To inform:

- the employee that he/she failed to complete a course within it's due date

- the manager about the employees that failed to complete a course within it's due date

Important Note: You have the option:

- either to set specific reminders on specific days

- or to set daily/ weekly/ monthly reminders. (In this case, the user will continue to receive notifications until he completes the course.)

Notification about expiring course certificate
Employee/Course Assignor/Unit Manager/Assistant Unit Manager
To remind about an employee's course certification that will expire soon
Notification about expired course certificate
Employee/Course Assignor/Unit Manager/Assistant Unit Manager
To remind about an employee's course certification that expired
Notification about upcoming training event
Instructor Led Classroom - Employee/Instructor Led Classroom - Instructor/ Live Session - Employee/Live Session - Instructor
To remind the employee or/and the instructor about an upcoming event that they are attending/instructing

Manager notification about employees' course completion

Course Assignor/Unit Manager/Assistant Unit Manager/Direct Head of Above
To inform the manager about the employees who have completed a course

Employee notification about curriculum due date

Employee
To remind the employee about the curriculum due date

Manager notification about employees' curriculum due date

Curriculum Assignor/Unit Manager/Assistant Unit Manager/Direct Head of Above
To inform the manager about the employees who haven't completed a course with a due date

Notification about missed curriculum due date

Employee/Curriculum Assignor/Unit Manager/Assistant Unit Manager/Direct Head of Above

To inform:

- the employee that he/she failed to complete a curriculum within it's due date

- the manager about the employees that failed to complete a curriculum within it's due date

Notification about expiring curriculum certificate

Employee/Curriculum Assignor/Unit Manager/Assistant Unit Manager
To remind about an employee's course certification that will expire soon

Notification about expired curriculum certificate

Employee/Curriculum Assignor/Unit Manager/Assistant Unit Manager
To remind about an employee's Curriculum certification that expired