Once you have selected the skills/ skill groups that are relevant to your Academy, you are ready to associate them with specific Jobs and Courses. Or more precisely the exams within the courses. The exam questions must reflect the associated skills and the exam score within a course can then point to the jobs in which individuals may excel.
To connect skills with Jobs and Courses, click on the Admin tab, select the Skills Management tab from your Administration panel, and click on Connect Skills - Jobs - Courses.

>Connect Skills with Jobs
Select one or multiple jobs to connect them with skills. Feel free to use the search bar at the top of the page to filter your results.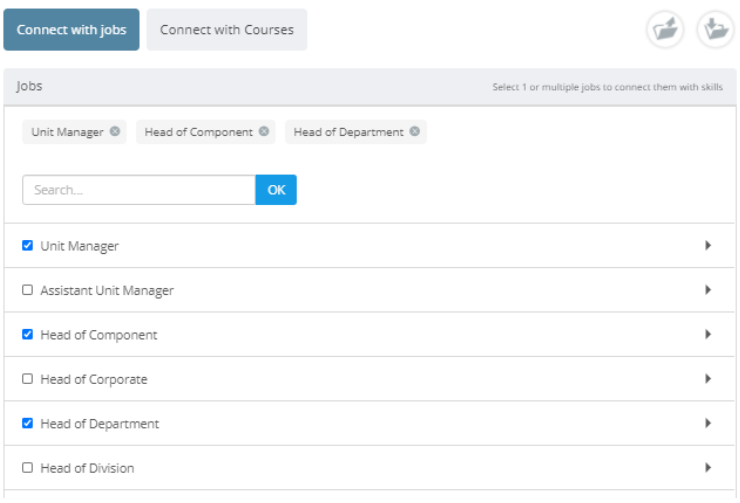 If you want to check if a Job is already connected with a skill, just click on the arrow next to the job title. All of the associated skills along with their priority and the required proficiency level will be displayed.

Once you have selected the job(s), click on the Next button at the bottom of the page. It's time to connect the selected job(s) with any skills or skills group!
Select the skills or the groups of skills that are required for the selected job(s) and add the required proficiency level per skill. You have the option to weigh the importance of each skill (Priority column), as it relates to the job. To do so, just adjust the weight with a slider.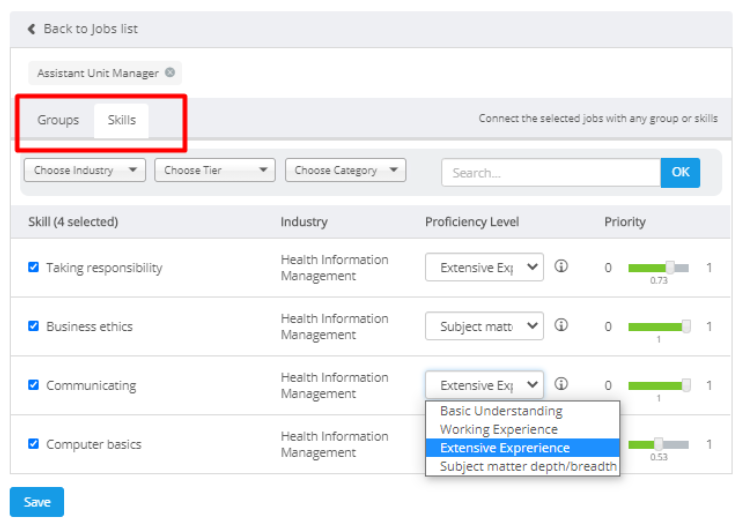 >Connect Skills with Courses
Under Connect with Courses, you can set up which skills should be assessed through each course. This determination must be then carried to the actual exams within those courses. Otherwise, you will end up analyzing false data.
You can find the desired course using the search bar at the top of the page. Click on the arrow next to the skill name to check if this course is already associated with a Job/ Skill. Finally, click on the Connect Skills button to associate this course with the desired skills, group of skills, and jobs!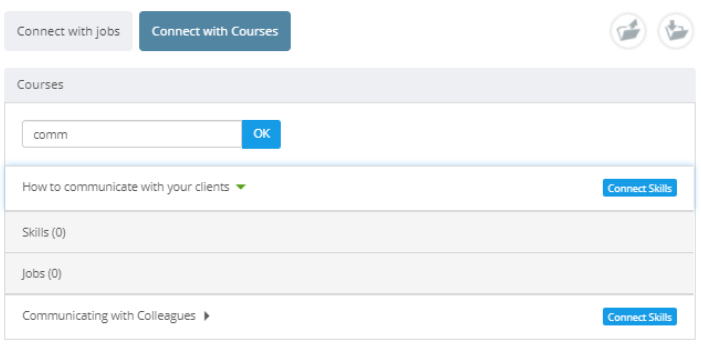 You can connect the selected Course with any skill, group of skills or job. To do so, just select the relevant tab, select the desired skill(s), group(s) and/or job(s) and hit Save.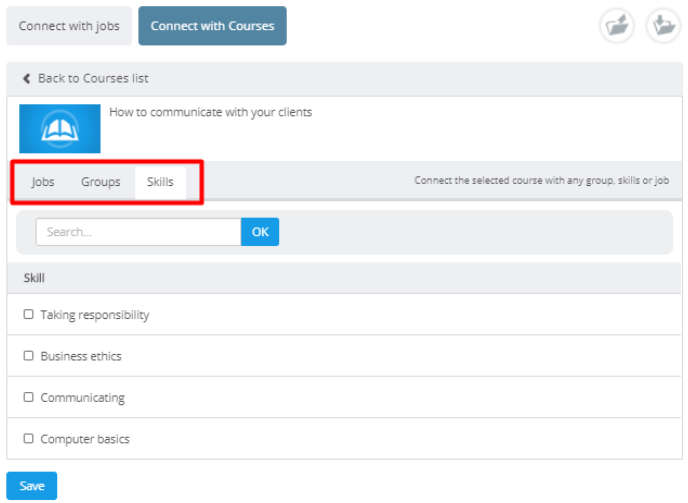 Please note that if you select to connect a course with a job, the selected course will automatically inherit this job's skills.
Read also:
How Can I Enable Skills In My Academy?
How To Add Skills For My Academy?