If you, as an Admin, update several courses/curricula/content categories at once, you can easily do from the relevant listing page.

To find the listing pages for courses/curricula/content, select Admin in the top navigation bar. Under Online Training in the left panel, you will see the three different listing pages:

Courses Listing

Curricula Listing

Library Items Listing

The process is similar in all three cases.
Once you select the needed listing page you will be redirected to a page that lists all the available items you have (courses, curricula, or library items). To find the item you are looking for you can either filter by Category or search using the search bar.

You can select as many items as you need by checking the checkbox on the left of each item! You can also select all items listed by checking the top checkbox. Once you select all the items you need to update the category for, you can click on Open List to give a final look at the items you have selected.

Once you verify that you have selected the needed items, click on the Select Category dropdown to select the category/ies you want to add these items under. Once you finish, click Associate to complete the process and associate the selected courses/curricula/content with the selected category/ies.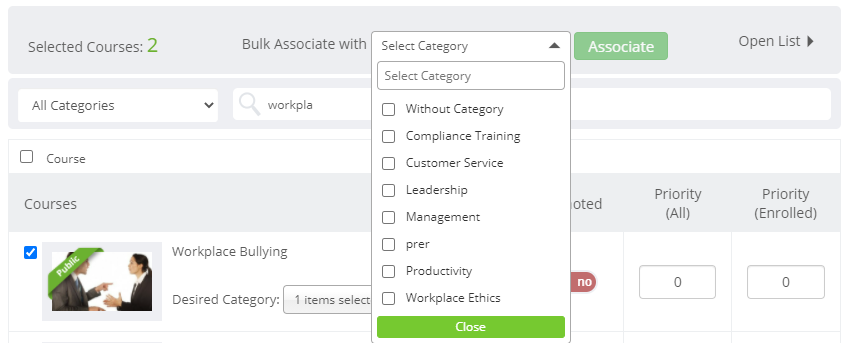 From this page, you also have the option to individually change the categories of your courses/curricula/content. Just click on the Select Category dropdown next to the item you need to update, select the needed category/ies and click Save when finished!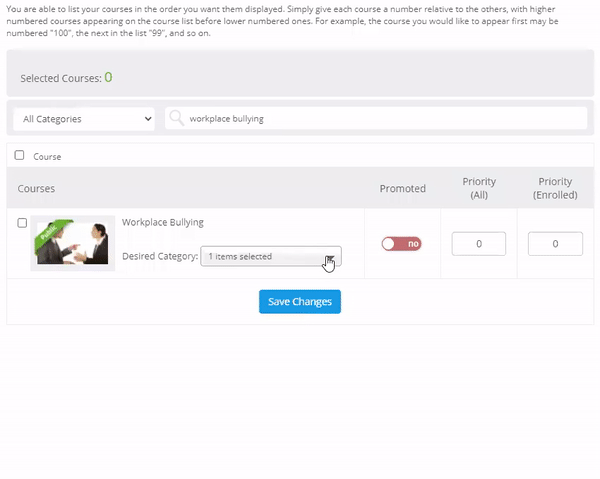 Please note that currently, only a single category selection is available for the Curricula listings. For Courses and Content, you have the option to select multiple Categories.