Video Exams are a fun and interesting way to test your employees!
To create a Video Exam, navigate to the course's Course Panel, click Exams on the left panel and then select Create new Video Exam.
Basic Information
First, you need to fill in some basic information for your Video Exam. Once you are on the Edit Info page, fill in the exam's basic info, like exam title, description, passing score, instructions, etc.

Exam Settings
Allow Exam to be Printed: You can define if you want to allow the exam to be printed and administered offline by Managers with reporting permissions on the exam. Read also: Is there a way to keep track of the exams that were taken offline?
Show Score Realtime: If you have this marked as "Yes", learners will be able to see whether their answer was correct or not immediately after they answer a question.
Students can skip Questions: If you have this marked as "Yes", learners will be able to skip a question, and come back at a later point while taking the exam.

Display Skip to end button: If you have selected that your Students cannot Skip Questions, with this setting you have the option to select if they will be able to use the "Finish Exam" button, to skip to the last question, and finish the exam without having answered all the questions.

Students can take the exam

: You can allow learners to retake the exam as many times as they want, or limit it up to 10 times.

Waiting Period: This setting is only important if learners are allowed to retake the exam. Decide here the amount of time the learner must wait before being able to take the exam again.

Score after submitting the exam: You can allow learners to see their score after submitting the exam.
Answers visibility: If you have this marked as "Yes", learners will be able to see the answers

only once

, after submitting the exam.

Exam Password: Set up a password for your exam. Users will be able to access the Exam only if they know the password. Otherwise, they will not be able to Start/Resume/Restart the exam.

2. Add / Edit Video/Questions
Click Save to be taken to the exam panel. From there you can add the video and questions to your exam. Click Edit Video/Questions.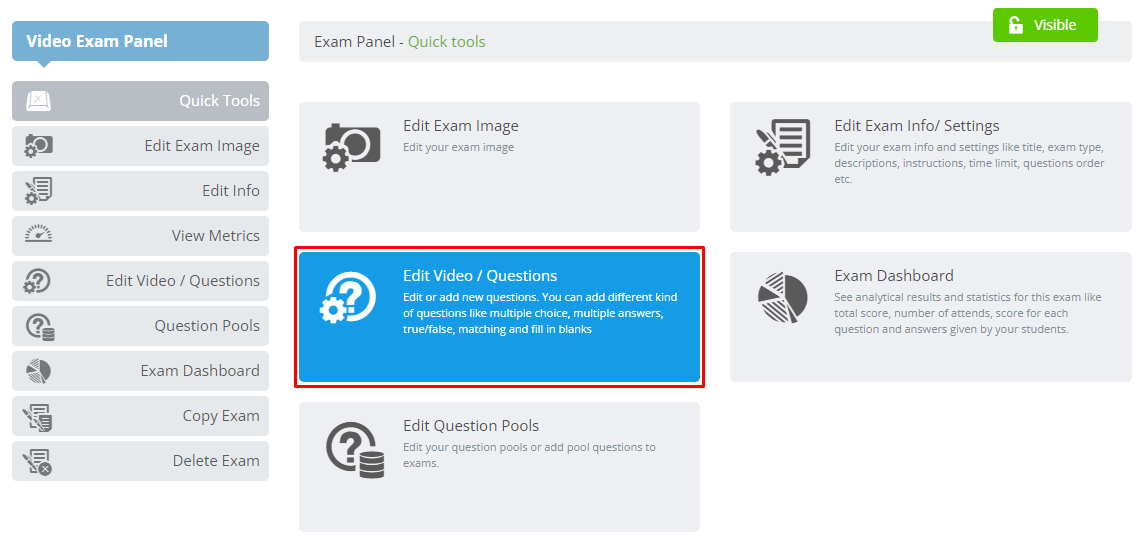 First, you need to add a Video to your Exam. Click on Add Video From Library, select a video from your Library and click Save. If you change your mind you can change the video by clicking the Change Video button on the top left of the page.

Now it's time to add questions! Click play on the video and let it play until the point where you want to add your question.
To add a new question click on the type of question you want. Schoox exams can have the following type of questions:
Multiple Choice
Multiple Answers
True / False
Fill in Blanks
Matching

Please note that you are not able to add two questions at the same time point in the video.
Please note that if you decide to replace the video in the future, the behavior of the questions will remain unchanged. Therefore you would have to remember to make the necessary changes in the questions.
Learn more about the different types of questions here: What Types Of Questions Can I Add To My Exam?
If you are using question pools in your Academy, you can also add questions from a question pool to your exam. To learn more about how to add questions to your exam from a pool read here: How Can I Create And Use A Question Pool?
You can later edit or delete your questions just by clicking the relevant button on the question card.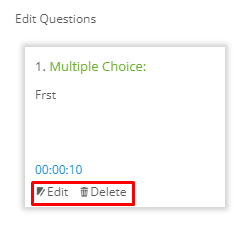 3. Publishing your Exam
When you are finished building your exam, click the big blue Make visible button to make your exam visible. It will then appear on the course card under the Exams section.