With SchooX, it is very easy to buy a course offered within your Academy!
First of all, you need to head to your Academy's Course listings page, find the course you want to purchase and click on its title. On the right of the Course's About page, you will be able to see the pricing plan and purchase options.
Please note that this process is only available for courses that are offered within an Academy, and not for Marketplace courses.
A course may be offered as a license-based or a subscription-based one:
If the course is a license-based one, you will pay one time for it and then have lifetime access.
If the course is a subscription-based one, then you will have to pay every x years (annually or every 2 years) to keep your access to it. In this case, you will automatically be charged every time your subscription expires. You can cancel your subscription if needed after you purchase the course. Read more: How do I cancel my subscription?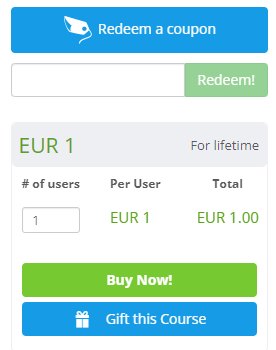 The next step is to click on the Buy Now button to start the purchase process. On the next page, make sure to choose the Buy for you tab and fill in all the necessary information. Once you do, click on the Purchase Course button to finish the process.

Once you have completed the payment, you will automatically be enrolled in the course and the course will show under Training -> My Training.
Read more: How can I enroll in a course using a coupon I purchased?
How can I get more licenses for a course I have already purchased?