In Schoox you can connect your Academy with your GoToTraining account in order to create Live Session events.
Simply navigate to your Academy Settings, by selecting the Admin tab from the upper navigation menu. Under Academy Settings, select Advanced Settings.  In the list that appears click on Integration with Citrix - GoToTraining.
* Please note that other types of Citrix accounts, i.e GoToMeeting and GoToWebinar, aren't compatible.  
Select the button Connect and enter your credentials in the panel that opens. You can also select the type of your Citrix - GoToTraining account. If you have an up to 25 users GoToTraining account, for example, you won't be able to invite more than 25 users to your event.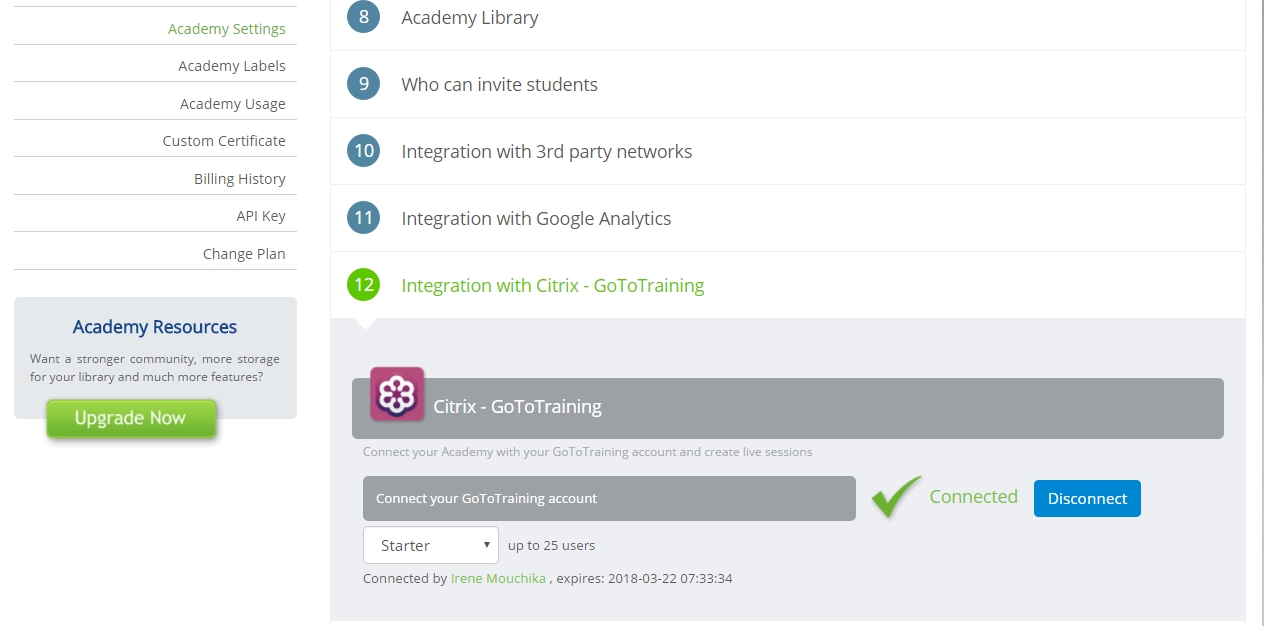 After the integration of the accounts you can continue with the creation of your Live Session events by selecting Training from the upper navigation bar, and then Events.  
Read also: How do I create an In Class Training or Live Session Event?
What's next?
After creating your Live Session, you need to initiate the sync process with your GoToTraining account. To initiate the sync process, navigate to your Admin tab, and under Live Sessions select Manage Events. Under Status, you can see whether you have synced a past event or should sync an upcoming event.

The sync process is available to start 48 hours before the starting time of the event, and up to 15 minutes after its start. Simply click on the green Sync with GoToTraining button.
Please note that the sync can take place only once, and when there's at least one registrant. Once the sync is complete, you will not be able to register more users in your event.

When it's time to start the event, select Start Event to get redirected to your GoToTraining account, or
access the event's link directly from your GoToTraining.

Please note that users receive a notification, and should select Join Event in order to receive the link for the live session.