In Schoox, certificates are automatically awarded whenever a student successfully completes a course. As an academy Administrator, you are able not only to customize the look of the certificate used within your academy but also to create custom certificates per brand.
(read also: How can I label an Above Unit as a Brand?)
Customize your Academy Certificate
To customize your certificate, hover over the Admin tab in the top navigation bar, and click Academy Settings.

Then, under Your Academy, select Custom Certificate.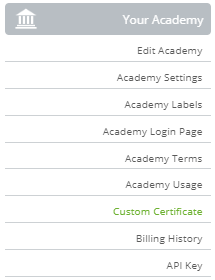 On the page that appears, you can customize the certificate's style and color. You are also able to upload your logo, which displays on the right side of the certificate, and your signature, which displays on the left. Last but not least, you can select if you want to add a custom badge, the default one, or if you want to completely remove the badge icon from the certificate.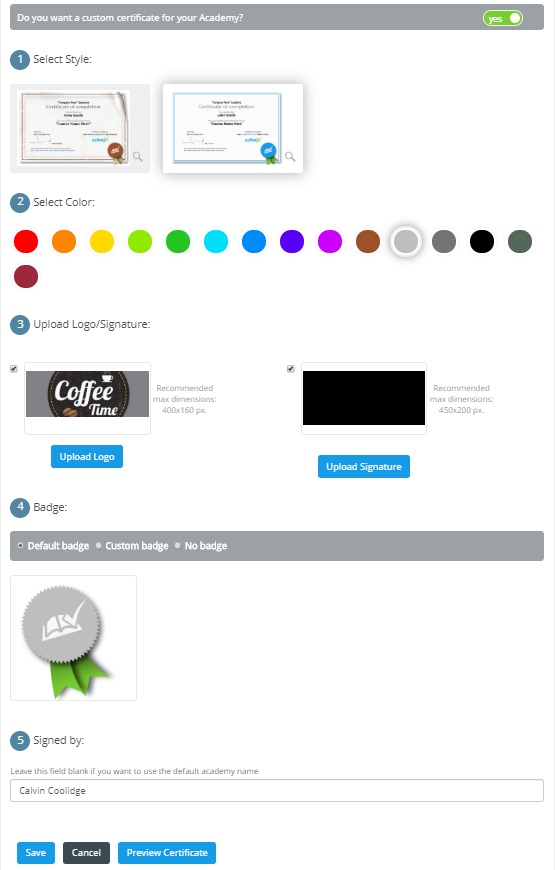 If you select to add a custom badge to your certificate, you have the option to customize the badge as well. You can adjust the colors, icon, badge shape, or even add your own image!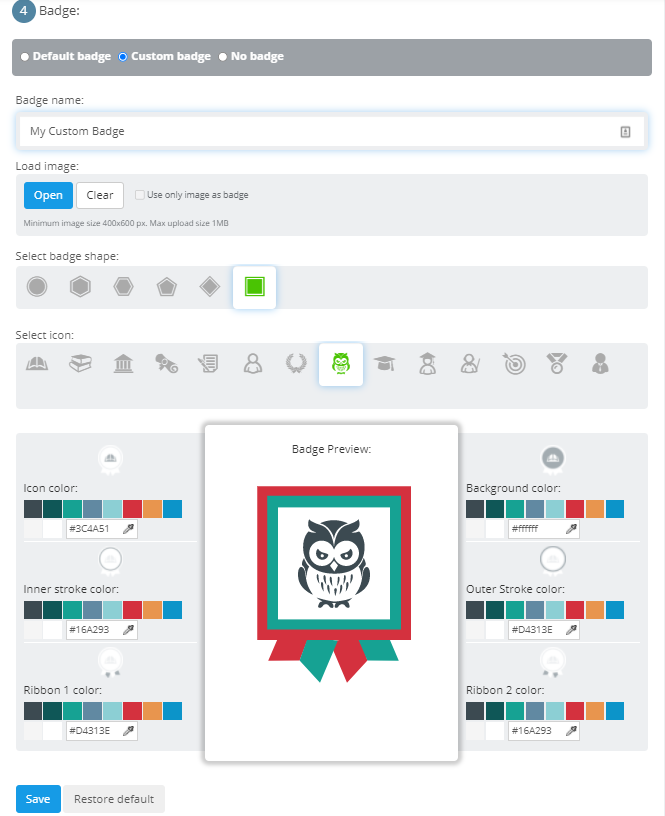 When you are finished, make sure to apply the settings by clicking Save. After saving, you will be able to preview your changes by clicking Preview Certificate.
Create custom certificates per Brand
Navigate to your Admin tab in the upper navigation bar, and select Manage Hierarchy. On the next page select Above Units. In the Add Above Units tab, search for the desired Above Unit, and click its associated Edit Brand.

Select the Configure Certificate by Brand option and decide whether you want to have a custom certificate for your brand or not. If you want to have a custom certificate for the selected brand, apply the changes based on your needs and Save at the bottom of the page.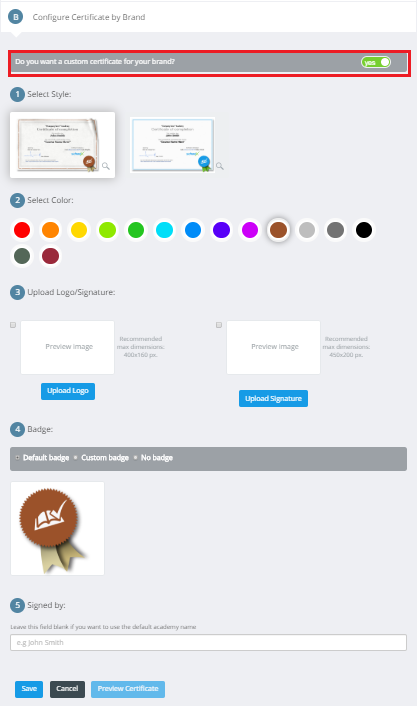 Please note:
The results that the user may end up seeing may differ depending on their org structure and the settings you have applied for your Brand. For more information please check also : How Can I Label an Above Unit as a Brand

The uploaded image's ratio should be 400x480 pixels.

A certificate will always reflect the course's title. If a courses title changes, it will also change on all certificates awarded — past, present, and future. This means what is shown on a certificate may change retroactively.