In Schoox, several terms can be replaced with your preferred ones to fit your organization's needs. For example, you may prefer to use the term "Member" instead of "Employee".
As an academy Admin, you are able to change Academy Labels.
To replace your Labels, click the Admin in the upper navigation bar. Then, under Your Academy, select Academy Labels.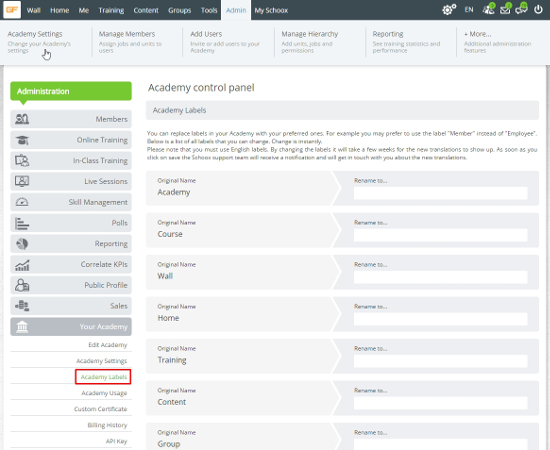 Fill in the field "Rename to" with your preferred term.

When finished, click the blue "Save" button at the bottom of the page.
Change is instant. All changes apply to the entire interface of your Academy, as well as to every outgoing email and notification sent from the system.
Please Note:
Labels must be in English and in singular form.
Changing the academy Labels affects not only the entire interface of the academy but also every outgoing email and in-app notification sent from the system.
Sentences containing labels will not be translated throughout the academy.
Related Articles