To be able to properly utilize the Credits Types you have created you need to create your Credit Rules first. Each Credit Rule you create defines the required number and type of credits for a specific group of people, and the type of training these users should take, to acquire this type of Credit.
For example, you can set up the rule that every SEO Expert needs to accumulate 30 Credits of Type SEO Expert, every 12 months within a calendar year, by taking courses from the SEO Category.

Please note that the period in which the credits should be collected and the expiration time of the Credits are defined for each Credit Type under the Credit Types page.
Read also: How can I create Credit Types?
To create Credit Rules just go to Admin, select Credits from the left-side menu, and click on the Create Rules option. Under this page, you can check the rules you created in the past and create more if needed.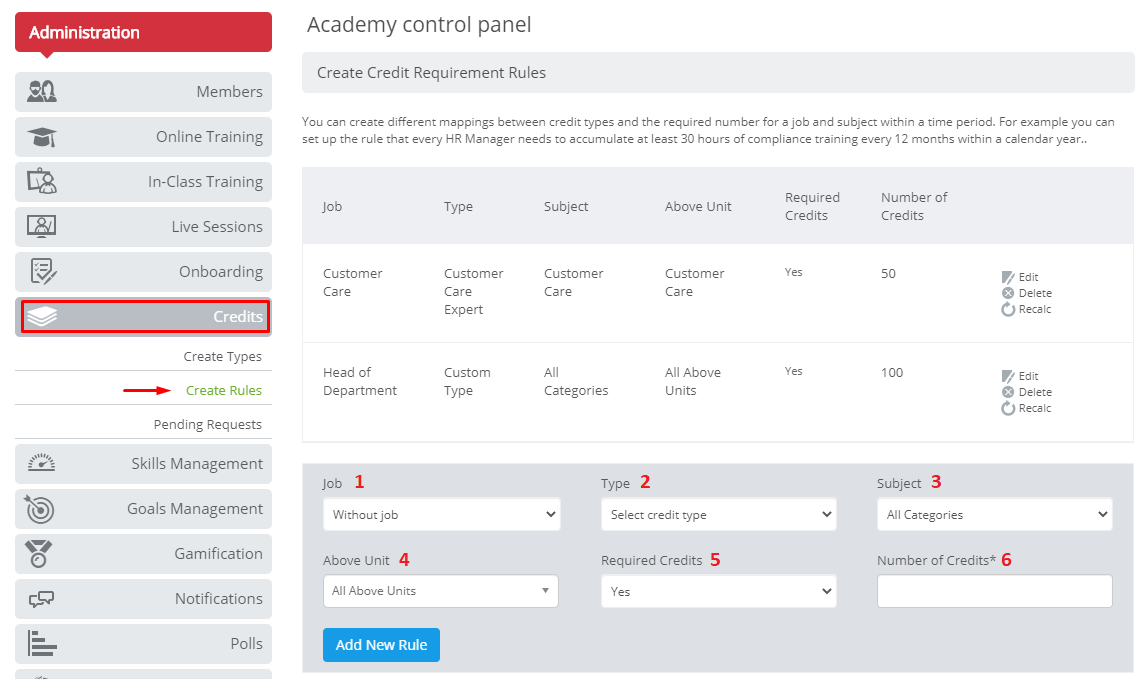 There are six options that will define the Rule you will create:
1. Job: Select the users who should collect these credits according to their Job. All Jobs that are under your academy's organizational structure are available here.
2. Type: Select one of the Credit Types you have created.
3. Subject: Select the course category from which the users will be able to collect their credits. If the users complete a course from a different category they will not get the credits needed for this rule.
Please note that you will need to assign the credits to a course in order to complete the process and allow users to get credits upon course completion: How can I assign specific Credits to a Course?
4. Above Unit: Select the group of users that should collect these credits based on their location.
5. Required Credits: Define if the credits are required or optional.
6. Number of Credits: In the case of required credits, you will need to define the number of credits that each individual needs to collect.
Once you have created a rule, you are able to edit or delete it using the same page. You also have the option to recalculate the credits for employees that had completed their training prior to setting up this rule. Simply click on the Recalc button. Please note that the credits and completions that will show up under the Credits Dashboard, will be only those that occurred in the specified time frame.