In order to initiate Live Sessions using Microsoft Teams, you will need to connect your academy with your Microsoft Teams for Business account.
You will need a Microsoft Azure account to connect Teams to your academy. Please refer to this article for step-by-step instructions.
Connecting Your Microsoft Teams Account in Your Academy
Select Admin in the upper navigation menu. Then, under Your Academy on the left, Academy Settings. In the list that appears select Live Sessions Integration and then Integration with Microsoft Teams for Business.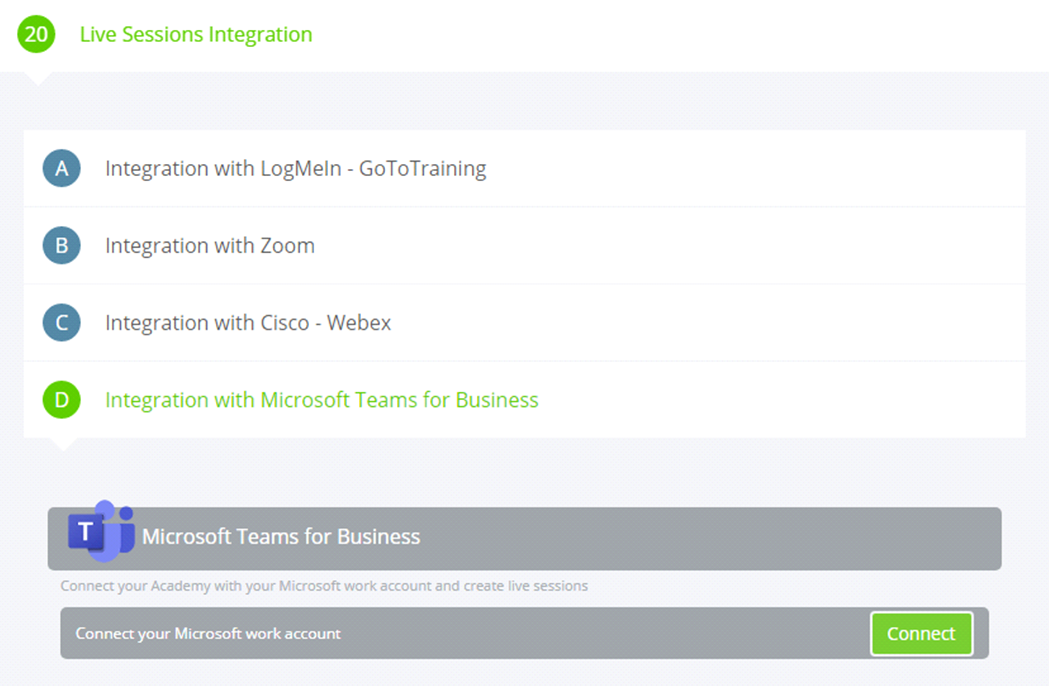 By clicking on the Connect button you will be redirected to a Microsoft Connection page. In order for the integration to be set up, you will need to provide consent to the application for the required delegated permissions on your Microsoft Work Account. Once you will click on the Accept button you will notice that the connection will be successfully completed in your academy.
It's time to select your account's tier! If you have an up to 100 users Microsoft Teams for Business account, for example, you won't be able to invite more than 100 users to your event.
Important Note:
Microsoft provides the following options of subscriptions:
Free Plan (up to 100 users)
Essentials Plan (up to 300 users)
Basic Plan (up to 300 users)
Standard Plan (up to 300 users)
Premium Plan (up to 300 users)
Enterprise Plan (unlimited # of users)
Mixed Plans (allows you to define the # of users)
By default, a maximum of 500 users are allowed to participate in a Live session initiated with Microsoft Teams. This is a limit imposed by Microsoft. If you need more users than this, please contact your Schoox CSM or Schoox Support.
Last but not least, you can enable/disable the "Allow users outside of your Microsoft Azure Organization to connect to Teams Meetings" setting. This setting allows you to restrict the Teams Meetings Participation only to your Organization Users who have an e-mail address in your Azure domain. This way you can exclude External Users from your online meetings. Please note, however, that this setting should be defined before initiating your event, as it does not work retroactively.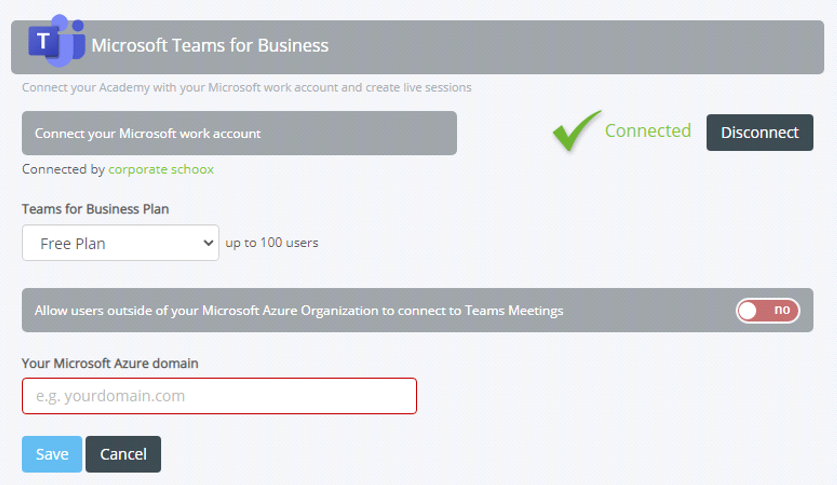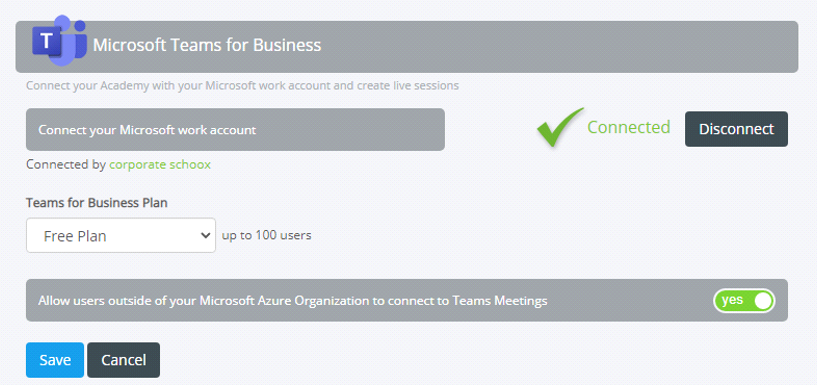 Your Microsoft Teams account is now successfully connected with your Academy. You are now ready to start creating your events, and initiate them using the connected Microsoft Teams account!
Please Note:
Attendees who stay in the meeting under 60 seconds will not be counted as attendees.



Hosts MUST actively end Microsoft Teams meetings by selecting End Meeting to properly communicate attendance information. Failure to do this may result in inaccurate attendance reporting.

Hosts MUST completely close Microsoft Teams in order to sync meeting data between Microsoft and Schoox. Failure to do so may delay attendance data by up to twelve hours. If the app has not closed within 12 hours, Schoox will stop trying to retrieve the attendance data.

Communication between Microsoft and Schoox every 5 minutes; attendance data may take up to 5 minutes to sync.


Attendance data from Teams Breakout Rooms cannot currently be communicated and recorded, as that information is not available in Microsoft's API.
Read also: